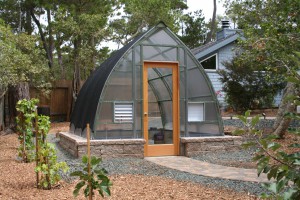 A gothic arch is one of the strongest structural designs known to man. So it makes sense that a greenhouse from Gothic Arch Greenhouse, a 67-year-old family-owned company in Mobile, Alabama, is strong enough to stand up to extremes of snow and wind.
Each Gothic Arch Greenhouse kit is hand-crafted in the USA for onsite construction. The heart of a Gothic Arch Greenhouse is the Bald Cypress wood framing. The cypress wood framing is sturdy, attractive, and many times more energy efficient and insulating than metal-framed greenhouses. The cypress wood is locally sourced and sustainably harvested, and it is extremely resistant to water and insect damage.
The hand-crafted structural arches are always at an ideal angle toward the sun, and temperature ranges are easily maintained under the vaulted curves. Because of the high profile of the ridge, a Gothic Arch Greenhouse is perfect for growing taller specialty crops such as tomatoes, cucumbers and many tropical trees. The Gothic Arch design encourages condensation run-off inside the greenhouse, and the design also prevents snow accumulation on the roof.
Three greenhouse covering options are available: corrugated polycarbonate, 8 mm twin-wall polycarbonate, and 8 mm triple-wall polycarbonate. Because of the flexible design of the Gothic Arch Greenhouse, many foundation options are available. The greenhouse can be installed directly on the ground, or the structure can be placed on a foundation wall to raise the height of the roof. Five basic greenhouse widths are available: 8 feet, 12 feet, 14 feet, 18 feet and 22 feet. Lengths begin at 8 feet and are expandable in 4-foot increments. Prices for the most popular size, 12 feet by 12 feet, start at $3,465.
For more information about available sizes and options, visit www.gothicarchgreenhouses.com.