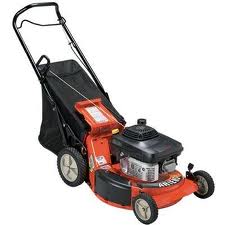 Manufactured in the USA, Ariens LM21 walk-behind mowers are ideal for small lawns with flat surfaces. Suitable for cutting lawns up to ½ acres, the Ariens LM21 delivers power and even-cutting performance with the 4.5hp, 173 cc Kohler® XT-7 engine. With an overall cutting width of 21", the Ariens LM21 walk-behind push mower cuts tall grasses with ease, requiring less effort due to the four non-pneumatic, ball-bearing wheels. With the increased vacuum-like suction created by the specially-designed rolled bottom lip of the cutting deck, the Ariens LM21 provides a consistent cut for professional looking results.
Key Features
Ergonomically designed for operator comfort and safety, the Ariens LM21 push mower boasts several notable features that line up with the Ariens standard for quality products:
4.5hp/173cc Kohler® engine.
Operator zone recoil starting.
Comfort grip, multi-position folding handle.
Easily adjustable cutting heights from 1" to 3.25".
"High-lift" precision balanced cutting blade.
6-cutting positions.
3-in-one cutting options from side discharge and rear bagger to mulching.
Shipped complete with wire-frame bagger (some assembly required).
Tool-free adjustments.
2-year limited manufacturer warranty.
Powered-coated paint finish.
3-in-1 Versatility
The optional cutting capabilities of the Ariens LM21 push mower offers the versatility to cater to the needs of each individual owner. From side discharge to rear bagging to mulching (mulching blades sold separately), the Ariens LM21 delivers professionally manicured lawns. With the option to purchase additional attachment accessories, the Ariens LM21 can easily transform into a multi-use piece of lawn equipment without the cost of purchasing various power tools individually. With the Ariens LM21 'tunnel-shaped" cutting deck and optional leaf shredder attachment, vacuuming fall foliage with the Ariens LM21 push mower gives lawns a clean-cut look. The folding handle of the Ariens push mower also converts into a tripod for easy "one-person" cleaning of the under carriage.
Available Attachments Accessories
Economically priced, the never-ending selection of Ariens LM21 push mower attachment accessory options provide for increased lawn care within "one-pass." Providing oxygen-enriched nutrients to strengthen grass roots, stimulating additional growth, the Ariens LM21 lawn de-thatcher removes and draws all deeply embedded grass clippings to the surface. With use of the included 3 cubic-feet Ariens LM21 wire-frame bagger, clippings are disposed of or easily converted into compost for a flower bed or vegetable garden. The "bag-N- drag" rear bagger attachment adds wheels to the rear bagger for easier transporting to a proper disposal site, eliminating the burden of carrying a full bag of grass clippings, which can be heavy and cumbersome. Other available Ariens LM21 accessory attachments include:
Mulching kit.
Mulch master plug.
Leaf shredder kit.
Straight axle conversion kit.
Front wheel swivel conversion kit.
Consumer Comments
Find out what the current owners of the Ariens LM21 push mower have to say. These are the most commonly found consumer opinions of this model:
Plenty of power.
Recoil starting is smooth with hardly any resistance.
Starts on first pull.
No oil and gas mixing required is a "true blessing".
Good cutting heights.
Good design.
Really easy to push—even going up small hills.
Attachments are well worth the additional cost.
Cuts evenly and smoothly.
Availability
Available on Amazon.com and through nationally recognized home improvement/hardware stores, the Ariens LM21 walk-behind push mower is reasonably priced based on all it offers to homeowners. Available online through authorized distributor websites, prices may vary from one distributor to another. In a few reported cases, the Ariens LM21 push mower has provided continual service for 10 years or more with no reported incidents of failure or additional maintenance required.
Overall Views/Reviews
Currently rated at 3.4 stars out of a possible 5 star total rating on Ariens website, the largest reported comment stems from a perceivably high price when compared to other models that may be similar to this one, but when considering the longevity of the Ariens LM21 push mower versus replacement costs, the Ariens LM21 walk-behind push mower is an overall affordably-priced piece of lawn equipment with the potential to outlast other similar models.
Bottom Line:  Recommended.