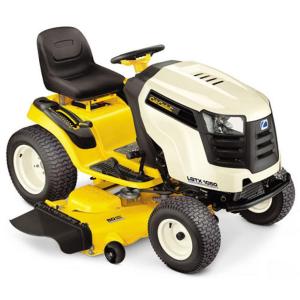 Cub Cadet LGTX1050
Cub Cadet continues to be amongst the leaders in the producing some of the most reliable and dependable lawn tractors on the market. With ample power provided by the dependable 25hp Kohler™ Courage™ V-twin overhead valve (OHV) engine, this precision-built lawn tractor is capable of completing a multitude of household  tasks from mowing large lawns in the spring to snow-blowing in the winter. Built strong to last for years of continual service with minimal required maintenance, the Cub Cadet's three-year warranty is 10.6% longer than competing models. With integrated features designed for safety, comfort, and performance the Cub Cadet LGTX1050 is a model to seriously consider.
Key Features
With a never-ending selection of key features available on selected models, the Cub Cadet LGTX1050 simplifies the selection process with integration of specific requested features found only on the complete line of Cub Cadet lawn tractors. Designed for comfort and performance with ease-of-operation, the features on the Cub Cadet LGTX1050 include:
Powerful 25hp Kohler® Courage® V-twin OHV engine.
726cc engine displacement.
12v heavy-duty 190 cold cranking amp battery with electric start.
Power steering.
Ultra-tight 12in turning radius.
CubComfort™ high-back, 12 position cushioned seat with 6" travel.
On-board digital LED monitoring screen.
6-speed hydrostatic foot-controlled, "shift-on-the-go" transmission.
12 position fender mounted manual height adjustment with "floating deck".
Cutting heights from 1-5" minimum to 4" maximum.
50" QuickAttach™ cutting deck with triple precision balanced heavy-duty cutting blades.
SmartJet™ under-deck washing system.
Full pressure spin-off automotive styled oil filter.
Three-year superior warranty with five-year warranty on cutting deck and frame.
42.6% lower price than competitor's models
Conversion Applications
And if precision mowing of tough terrains isn't enough, the Cub Cadet LGTX1050 can also be easily converted from a lawn tractor into a variety of useful household applications. The Cub Cadet QuickAttach™ easily removes the 50" cutting deck, adding the mobility to handle other tasks. The never-ending selection of Cub Cadet LGTX1050 attachment accessories (sold separately) reduce yard work drastically from vacuuming and bagging of fall leaves to hauling firewood in a dump-box lawn wagon, and not to mention—electronic fingertip PTO engagement. Regardless of the project at hand, Cub Cadet has an attachment or accessory to simplify the process.
 Solid Construction
Only Cub Cadet offers a fully welded stainless steel frame backed by an unprecedented 5-year warranty. The front hinged, forward-pivoting hood on the Cub Cadet allows easy access to the motor for required maintenance and oil changes, while also remaining dent, scratch and corrosion resistant for a lasting appearance. With a heavy-duty hydrostatic pump drive system and dual Kevlar belts, the Cub Cadet solid construction is evident from the first ride to many years of continual use. Capable of mowing lawns with steep inclines and rough terrains, the anti-slip differential of the Cub Cadet LGTX1050 provides adequate power to both rear wheels for increased stability and traction.
Consumer Comments
Not surprising, the Cub Cadet LGTX1050 has received positive feedback from many of its satisfied owners. With more and more reporting that they indeed would replace their present Cub Cadet LGTX1050 with another model as needed, the long legacy of Cub Cadet's performance continues to show. Taken from the actual responses of Cub Cadet LGTX1050 owners, here are some of the most common opinions:
Comfortable.
Nice deck adjustment.
Tight turning radius.
Good power.
Even lawn mowing.
Deck wash is a nice touch.
3 year warranty vs. 2 year.
Kevlar belts.
Easy operation with a nice, even, smooth finishing cut.
Overall, very quiet.
Large fuel tank.
LED display is great.
Ratings
As noted on the Cub Cadet website, 95% of present Cub Cadet LGTX1050 owners recommend this versatile lawn tractor based on personal use experience. Rated at 5 stars out of a possible 5 star total rating, the Cub Cadet LGTX1050 has notable performance with dependable year-after-year operation, which sets this lawn tractor apart from all other models in the same class. Although originally designed for medium sized lawns, the Cub Cadet LGTX1050 is also rated for larger sized lawns as well with no noticeable difference in overall operational performance.
Bottom Line: Highly recommended based on longevity, design and performance.