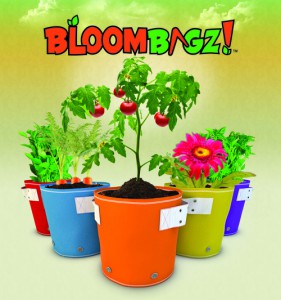 Continuing their commitment to bring new, innovative products to the home and gardening industry, Michigan-based Bloem, LLC has acquired the Wisconsin-based start-up BloomBagz.
BloomBagz has developed a series of patent-pending fabric planters made from a material consistent with recycled water bottles. The BloomBagz product line introduces a unique, eco-friendly solution for urban gardening and other situations requiring a portable planter. Featuring air-pruning and root-tapping technology, the machine-washable product line combines an ideal growing environment with convenience and style. At the same time, BloomBagz provides Bloem its first non-molded plastic planter, paving the way for the growing company to broaden its product offerings.
Ryan Mast, President of Bloem, comments, "We became familiar with BloomBagz through an industry show. Immediately, we realized its market potential and seen how it could fit within our distribution network. The quality and versatility of the products combined with the environmental commitment and stylish designs are aligned with our long-term objectives. Emerging material technology is the future of container gardening."
BloomBagz was in the process of a KickStarter campaign when Mast and the Bloem team discovered it. After a complete evaluation of the product line and manufacturing process, Bloem finalized negotiations in time to begin shipping the new products in late 2015/Spring 2016. Immediate availability is limited in Spring 2015 to pre-existing commitments. BloomBagz will appear in Bloem's next catalog due for release May of 2015 at the National Hardware Show in Las Vegas, NV.