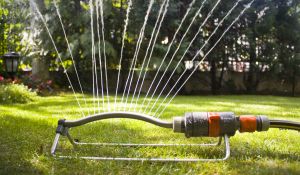 A convenient way to water your lawn without any manual labor, an automatic sprinkler system is a wise path to a healthy lawn. These systems come in a variety of styles with plenty of different options. Water your lawn based on the time or date, or choose a system that can be turned on and off manually. Depending on your needs and the factors of your yard there is an automatic sprinkler system that will suit.
Size and Budget
Two main factors will help to determine which type of irrigation system should be installed. The size of your lawn is the first and the size of your budget is the second. Try to decide whether your lawn requires a sprinkler system based on the watering needs and the expanse of grassy areas. Maybe you are physically limited and unable to keep up with the lawn maintenance. A sprinkler would help your lawn to thrive without the need for added physical maintenance.
The initial cost of the sprinkler system is not the only thing to consider when budgeting. These systems require annual maintenance to continue operating well and repairs are a common occurrence. Also, many irrigation specialists will tell you that your annual water usage is likely to increase with the installation of a sprinkler system. Factor in the cost of added water, annual maintenance and necessary repairs to come up with an overall total expense.
Options on the System
Your sprinkler system itself can also be outfitted with various options which will affect the price and performance. The number of zones your system covers is a major design feature. It may be wise to install more zones than you currently need to account for future changes in your lawn. When you expand your garden or invest in larger patio pots your irrigation system will be ready to handle the extensions.
Rain sensors are another smart option that will make your automatic sprinkler system even more convenient. This sensor opens and closes the valve based on whether any rainfall has been detected. Excellent for vacations or when rain falls in the middle of the night, this sensor makes your system more efficient and practices good water conservation.
Specially made pop-up heads can also help to regulate the pressure in the sprinkler lines, saving you water and money. Because the municipal water pressure fluctuates, a regulated spray head will allow your system to have a steady flow of water which will result in overall conservation.
Aesthetic options can also be added to your system, including copper risers and brass nozzles. Your irrigation specialist should be able to show you the various designs and options available, allowing you to choose a system that suits your yard. Enjoy the convenience of an automatic sprinkler system and the appearance of a healthy, thriving lawn with less work.