VIRGINIA BEACH, Va. – With sleek designs and comfort features, the substantial expansion of the STIHL sprayer line not only meets every manual spraying need, but does so in style. The lightweight and ergonomic STIHL SG 11, SG 31, SG 51 and SG 71 improve performance for applications ranging from light misting to spraying insecticides, pesticides, herbicides or fertilizers.
"Now with four new models to choose from, there is a product for anyone looking for a dependable, low-maintenance and lightweight sprayer for the home, garden, or commercial job site," said Marv Mathwig, product manager at STIHL Inc.
Handheld Sprayers
The STIHL SG 11 manual handheld sprayer is great for up-close spraying around the home, yard, or garden. It comes equipped with a 1.5-liter translucent tank that makes it easy to see when it is time to refill. A non-adjustable hollow cone plastic nozzle on the sprayer head is standard for consistent spraying. For larger jobs, the versatile, multipurpose STIHL SG 31 handheld sprayer is an excellent mid-range volume sprayer that also offers additional features like a hollow cone brass nozzle, wand holder for secure storage and transport, and a pump handle that can be locked into place to act as a carrying handle.
Backpack Sprayers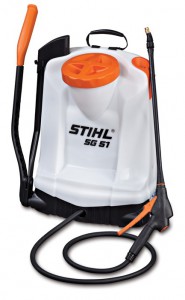 The STIHL SG 51 and SG 71 backpack sprayers are ideal for homeowners, hobby farmers, and commercial users, who are looking to reduce fatigue during long jobs that cover greater acreage. The SG 71 maintains constant working pressure thanks to a pressurized fluid reservoir that is separate from the main tank, helping ensure greater accuracy on the job.
The SG 51 (12-liter tank) shares several great features with the SG 71 (18-liter tank), with a lesser volume capacity making it substantially lighter when the tank is full. Both models include:
An adjustable brass hose nozzle giving users the flexibility of changing the spray size, width, and volume of stream, and droplet size providing a varied application of liquid from fine mist to solid stream
Pump located inside the main tank to protect it from damage
A pump lever that can be mounted on the left or the right for easy access
Integrated handle for easy carrying
Wand holder for secure transport and storage of the wand
Translucent tank to provide good visibility of liquid level
To learn more about the STIHL sprayer line, visit http://www.stihlusa.com/products/sprayers/.