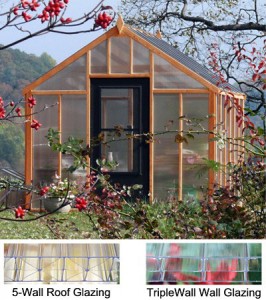 Enjoy the beauty and warmth of a solid cedar greenhouse with the new Northern Heritage Greenhouse, which features an energy-efficient design and the latest in glazing materials. "Glazing" is the covering material that encloses a greenhouse and traps the heat from the sun to keep plants warm. The Northern Heritage Greenhouse glazing is multi-wall polycarbonate—a very strong plastic material originally developed for windshields in fighter planes. The multiple layers of polycarbonate provide increased insulation value and diffuse the sunlight for optimum growing conditions.
The easy-to-assemble greenhouse frame is made from Western Red Cedar using 2" x 3", 2" x 4", and 2" x 6" lumber, which results in a much stronger frame than typical wood greenhouses. All components are pre-cut, and screw holes are predrilled to make it easy to correctly position and assemble the parts. The cedar frame can be left to weather to a natural silver-gray or stained to the color of choice.
The high, 9-foot-tall roof peak allows summer heat to rise, collects more winter sun and easily sheds snow. An automatic fan system is included, providing adjustable, worry-free ventilation to keep the greenhouse from overheating during the summer months. A thermostat controls the system to turn on the exhaust fan and pull in fresh air through two 20″ by 20″ motorized shutters.
The components of the greenhouse are proudly made by Charley's Greenhouse in Washington State. A typical 8′ x 12′ greenhouse kit with all 16 mm polycarbonate glazing sells for $5,390. Additional options are available. To order, visit NorthernHeritageGreenhouse. Mention code "NHG" and receive a free greenhouse bench. www.charleysgreenhouse.com, (800) 322-4707.