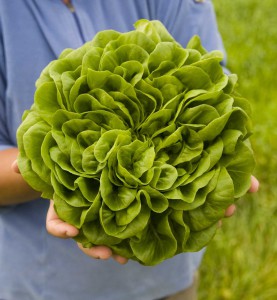 Fairfield, Maine: April 2013 – Salanova is the newest innovation in lettuce for the salad mix market. Taking over 20 years for breeders to develop, Salanova's unique core structure allows fully mature, compact heads to be easily cut into individual uniform leaves. Because the heads are allowed to reach full size, they produce fully-developed flavor, texture, and color compared to baby leaf. For the first time, this line is available from Johnny's Selected Seeds to U.S. and Canada small, direct-market growers. Praised for its versatility, efficiency and yield, Salanova offers many benefits for the grower.
Salanova provides high yields at lower-cost. Field trials at Johnny's farm in Albion, Maine found that the number and weight of leaves that Salanova produced offers 42% more yield and revenue potential than traditional baby leaf. In addition, because fewer seeds are needed to plant the same area, Salanova can equate to 92% more pounds produced for each dollar spent. Wendy Reinemann, Director of Research and Product Development, at Johnny's Selected Seeds states, "Salanova is going to to give traditional baby leaf growers a higher value product in terms of flavor and cost." Salanova truly exceeds traditional baby leaf in efficiency, yield, and price.
Less labor is required for cultivation of Salanova than traditional varieties because it is grown as single heads. Salanova easily integrates into multiple farming practices including: field, hydroponic, and hoophouse production methods. While it can be transplanted or direct seeded into the field, Salanova has also proven to be compatible and effective in most hydroponic systems. Growers can also achieve year-round production by growing under protected cover.
Multiple marketing options are available for Salanova, which can be sold as full-size heads or salad mix. Heads can be sold individually in clam shells, in pairs, or customized boxes to meet customers' needs. Leaves of different varieties can be sold as salad mix in ready-to-go premixed bags or individually allowing customers to create their own mix. Growers can expand their customer base by approaching restaurants and chefs with Salanova's one-cut efficiency and extended shelf life. Lauren Giroux, Johnny's Vegetable Product Manager, is excited about the new product, "No matter what type of lettuce grower you are, Salanova fits your operation and market."
Salanova is available in two types: incised and cored. Incised types add great flavor and will increase the loft and weight of a salad mix. Cored types offer superior color, flavor, and uniform shape. Both types' leaves are removed from the core using a "one-cut" method; whether using a knife or the patented cutter tool. All types have lettuce mosaic virus and modern downy mildew resistance. Some individual varieties have Nasonovia resistance. Available now from Johnny's Selected Seeds in the Foundation Collection (Incised Types: Red and Green Lollos and Sweet Crisps), Premier Collection (Cored Types: Red and Green Butters and Oakleafs), and the convenient Home Garden Mix of Cored Types.