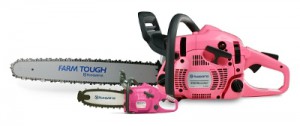 Throughout Breast Cancer Awareness Month, Husqvarna is partnering with GreaterGood.org to help the fight against this deadly disease. And consumers in the U.S. and Canada can help simply by entering a giveaway online or by purchasing a limited edition pink Husqvarna toy chainsaw.
For every valid entry to the 2015 Husqvarna Breast Cancer Awareness Giveaway through October 31, Husqvarna will donate $1 to GreaterGood.org, a 501(c)(3) charitable organization that works to improve the health and well-being of people, pets, and the planet. One randomly selected winner will receive a limited edition pink Husqvarna 450 Rancher1 chainsaw and a limited-edition pink Husqvarna Toy Chainsaw (MSRP $29.95).
In addition, Husqvarna and its partners will donate $32 to GreaterGood.org for every limited edition pink toy chainsaw purchased at a Husqvarna dealership. Through all efforts, Husqvarna hopes to raise up to $24,000 for breast cancer awareness.
"For years, Husqvarna has been committed to raising awareness of breast cancer and supporting efforts to end this deadly disease," said Michelle Sordi, marketing director for Husqvarna. "We look forward to bolstering the work of GreaterGood.org, which not only raises awareness of breast cancer but helps fund mammography screenings for women who cannot afford them."
"We are elated that Husqvarna has chosen our organization to support through this impactful campaign," said Liz Baker, Executive Director at GreaterGood.org. "These funds will help further our support for low income women with a high risk for breast cancer."
To enter the 2015 Husqvarna Breast Cancer Awareness Giveaway and to view official rules, visit http://www.husqvarna.com/us/breast-cancer-awareness/. No purchase is necessary to enter or win. No other method of entry will be accepted.
Help raise more money for GreaterGood.org by liking our page at http://www.facebook.com/HusqvarnaUSA and sharing this giveaway on social using the following hashtags:
 #HusqvarnaCares #breastcancerawareness #gopink
To find a Husqvarna dealer near you, visit the Dealer Locator section at www.husqvarna.com. To learn more, join the conversation by "liking" Husqvarna on Facebook (www.facebook.com/HusqvarnaUSA) and by following Husqvarna on Twitter (www.twitter.com/HusqvarnaUSA).