Every spring brings a fresh crop of new plant varieties, and 2014 looks like an especially strong year for new flowering plants and tasty new edibles. If you want to be the first in your neighborhood to grow the newest and coolest varieties, check out the plants below.
Plant these skinny apple trees almost anywhere
A standard-sized apple tree grows to a mature size of 20 feet wide, which is far too large for many suburban lots. The new Urban Apple® trees were bred specifically for growing in tight spaces where a standard apple tree simply would not fit.
Urban Apple® trees are loaded with fruiting spurs along the main trunk, and branches are short and upright. This growth habit produces straight, upright-growing, cylindrical apple trees that only reach two feet wide. These trees are cold-hardy to USDA Zone 4, disease-resistant and boast a vigorous growth rate. Plant Urban Apple® trees in the ground, or transplant them to large containers for growing crisp, fresh apples on decks, patios, balconies or any other narrow spaces.
Two varieties of Urban Apple® trees, Tasty Red and Blushing Delight, are sold together to ensure optimal cross-pollination and fruit production. Tasty Red, just as the name implies, is a gorgeous, bright red apple. It's a perfect complement to the leafy-green, rose-blushed hue of the Blushing Delight apple. Both apples are sweet, juicy and just as large as an apple from a much larger tree.
The Urban Apple® Combo from Nature Hills Nursery includes two trees ready for planting—one of each variety. The combo normally sells for $199.90, but it is now on sale for spring planting for $99.95 at www.naturehills.com/urban-apple-combo, (888) 864-7663.
Go native—in colorful style
Poncha Pass Red Sulfur Buckwheat (Eriogonum umbellatum "Poncha Pass Red') is an incredible native wildflower that has been a work in progress for High Country Gardens' chief horticulturalist David Salman for many years. Salman discovered the original plants at the summit of Poncha Pass near Salida, Colorado, on a drive from Denver back to Santa Fe. Growing on the roadside was a huge group of plants with deep red colored seed heads. He gathered the ripe seeds, and by the following spring he had plants thriving in his test growing beds.
'Poncha Pass Red' has turned out to be a very durable, long-lived miniature shrub that is waterwise, loves full sun and blooms reliably every year. The bright yellow flower clusters in late spring ripen to dark red seed heads by late summer. And the native bees are thrilled to have such a wonderful nectar source. It grows 4-6 inches tall and 12-15 inches wide in zones 3-7. Each plant in a 5-inch premium pot sells for $9.99 exclusively from www.HighCountryGardens.com.
Small red bananas are a tasty delight
Petite red bananas are popular in gourmet food markets because their small size makes them ideal for children and adults with small appetites. The fruit is sweet with a creamy, delicious texture, and the banana's skin turns a deep red when the fruit is ripe enough to eat. Now you can grow 'Dwarf Red' bananas at home. Musa 'Dwarf Red' will fruit when the plant is 6-8 feet tall, which usually takes a couple of years of growing. This banana variety is cold hardy in USDA Zone 9, and perhaps in Zone 8 with some winter protection. In colder climates, 'Dwarf Red' can be grown in a large pot outdoors during the summer and brought indoors during the colder months. The plant has an attractive lipstick-red trunk, and the tiny ripening bananas are also a visual delight. 'Dwarf Red' banana leaves are a fun culinary addition to barbecues, and they can be used to wrap fish or meat for cooking. Plants sell for $19.95 from www.logees.com, (888) 330-8038.
Grow the world's biggest tomato
The biggest tomato ever bred, a 'SteakHouse' Tomato tips the scales at up to three pounds or more—while brimming with heirloom tomato flavor and head-spinning fragrance. The new 'SteakHouse' indeterminate tomato matures in 75-80 days after setting plants in the garden in full sun, and is available as seeds or pre-started plants.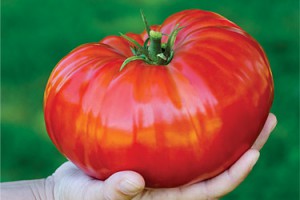 According to Burpee, the popularity of tomatoes has climbed steadily during the past 65 years, and tomatoes are now the number one homegrown edible crop—outselling all winter squashes, summer squashes, and sweet and hot peppers combined. The introduction of the giant 'SteakHouse' variety continues the tradition of giving home gardeners more tomato choices.
"Burpee horticulturists have continuously brought innovation to the seed market since 1881," said George Ball, Burpee's chairman. "The 'SteakHouse' Tomato will delight gardeners with its gorgeous, humongous fruits—and the taste is sublime! You can feed a whole family with one of these tomatoes."
'SteakHouse' Tomato is available in seed packets (25 seeds for $6.95) or as pre-started plants (3 garden-ready plants for $16.95, delivered at the proper planting time for your area). Order from Burpee at www.burpee.com or 1-800-888-1447.