VOLT® Lighting, an innovative factory-direct manufacturer of LED lighting products, announced today the introduction of new Solar LED Security Flood Lights. The lights are constructed of a main fixture/sensor assembly and a separate solar panel. An external power source is not required. These lights provide cost-effective solutions for security lighting needs.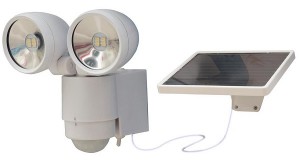 Heather Weston, VOLT® Product Manager, commented on the unique benefits of these solar lights, "We anticipate two primary uses, replacement of existing outdoor incandescent floodlights and addition of new lighting locations – especially in areas remote from power sources. The products are easy to install and provide added measures of security while providing significant energy cost savings."
Weston continued, "Replacing existing incandescent security flood lights with solar lighting makes sense because older lights consume hundreds of watts while solar lights have zero energy cost. Also, the ability to add security lighting to remote areas improves overall security and is a great way to leverage the new solar panel technology."
Weston's point about adding light to remote areas is critical for homeowners with larger properties. These properties often lack electrical power in backyard regions leaving security 'holes' on the property. VOLT® Lighting's Solar LED Flood Lights solve this problem because the unit's solar panel provides power for its floodlights – connection to electrical power is not required.
An additional feature is that the solar panel can be mounted up to 15 feet from the fixture/sensor unit. This gives the installer flexibility in choosing the best location and orientation of the solar panel – the lighting fixture can be in shadow while the panel can be in an exposed area to best collect sunlight.
Also, motion detection is critical to the functioning of the lights, so the VOLT® Lighting product allows the user to adjust the detector's sensitivity. This prevents unwanted light activation from things such as moving plants and small animals.