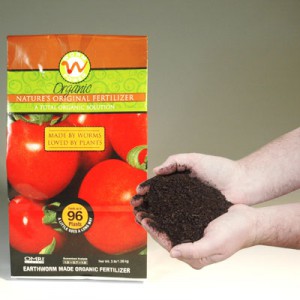 New organic fertilizer is made by worms
The castings that worms produce as they eat organic matter are truly Mother Nature's original fertilizer. In rural New York State, a creative agribusiness now uses millions of hungry worms to recycle organic waste and produce natural fertilizer in a state-of-the-art facility. The end result is Worm Power Organic Plant food, a fertilizer that increases soil fertility and improves plant vigor, root growth and nutrient availability.
Add Worm Power natural fertilizer to liven up sterile potting soils and revitalize tired, depleted soils. This OMRI-listed organic plant food is perfect for fertilizing transplants and for top dressing beds, rows, or container plants. It works naturally and effectively on vegetables, flowers, fruit trees, grape vines and house plants.
Worm Power natural fertilizer is safe for use around kids and pets. Easy to spread and handle, Worm Power delivers a guaranteed NPK analysis of 1.5-0.7-1.5, plus abundant micronutrients and a robust community of beneficial soil microorganisms. One pound of Worm Power fertilizes up to 16 transplants and can be mixed with potting mix at a 10-15% ratio. Available in 1-pound, 3-pound and 15-pound packages for $6.95 to $27.95 from Harris Seeds, www.HarrisSeeds.com or 800-544-7938.
Ancient irrigation method saves water and keeps plants happy
Good soil and consistent watering are critical to successful vegetable gardening. But regular watering is a challenge for gardeners as they contend with busy schedules and community watering restrictions. An ancient watering technique that uses clay pots called ollas has recently been rediscovered as an easy and efficient way to keep garden plants happily watered.
An olla (pronounced oi-ya) is an unglazed clay pot that is buried in the ground up to the neck and filled with water. A large olla holds two gallons of water, and the water is gently pulled through the organic clay olla and into the surrounding soil by soil moisture tension. The result is slow, even watering that helps plant roots stay moist. Ollas can be used in the ground, in raised beds and in large containers to provide controlled irrigation to surrounding plants. Not only do plants thrive because they stay evenly watered, but olla irrigation can save up to 70% of the water used in traditional spray watering since no water is lost due to evaporation or run-off. Ollas are especially useful in arid climates, but they can be used anywhere a steady and efficient water source is needed. Once in place, an olla will typically require filling two or three times a week depending on weather and soil conditions. Olla watering leaves the soil surface dry—resulting in fewer weeds and no soil compaction.
An olla made by Dripping Springs Ollas sells for about $40 and is available at Whole Foods markets and independent garden centers. For more information visit www.DrippingSpringsOllas.com or call 512-227-4048.
Rain and garden shoes for men are tough and comfortable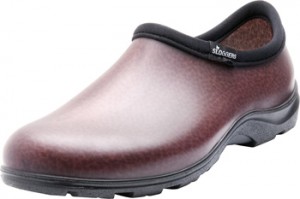 Do "real" men wear garden shoes? They do now, with the introduction of the Men's Rain & Garden Shoe from Sloggers®. The tough, waterproof, exterior matte surface has a brown leather print that resembles a fine dress shoe, so they're great for outdoors—and for "casual Friday" at the office on a rainy day. Like the rest of the Sloggers Made-in-the-USA line of all-weather shoes, the Men's Rain & Garden Shoe features a deep lug sole for great traction in wet and muddy conditions plus a soft, comfortable binding around the top. The signature "All-Day-Comfort" insoles make the shoes comfortable to wear throughout the day.
Sloggers shoes are made from 100% recyclable, medical-grade material—so they have a soft feel, no odor (unlike made-in-China shoes), are easy to hose-off clean and will last for years. The sole contains up to 50% recycled material, and when you're finished with your shoes you can send them back to Sloggers and the company will recycle them in the making of a new pair. Men's Rain & Garden Shoes are available in men's sizes 9 – 12 and sell for $34.95 in garden stores and online at www.sloggers.com.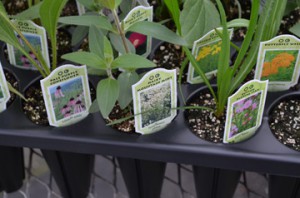 It's easy to grow an authentic prairie wildflower garden
Want to create a natural, pollinator-friendly, drought-resistant wildflower garden? Prairie Moon Nursery offers authentic native perennials that attract pollinators such as bees, butterflies and hummingbirds. "These are the real plants that filled the prairies more than 200 years ago, before this country was settled, and we are working to preserve them" says Bill Carter, President of Prairie Moon Nursery. "Native perennials are what native pollinators depend upon for food and habitat."
Prairie Moon's Mix & Match Potted Plant Tray lets you create your own native wildflower garden with up to six species of perennial wildflowers. Select wildflowers that can stretch the season with vibrant color, choose an assortment of flowers and grasses for a natural prairie look, or simply create a mix of your favorite North American native plants specific to your sun and soil conditions. The Mix & Match Potted Plant Tray includes 38 plants and sells for $119 exclusively from Prairie Moon Nursery, www.PrairieMoon.com, 866-417-8156. Order online this spring and save $10 with promo code TRAY14.
Last chance for free plants
Time is running out for local community gardens to for a chance to win up to $1,500 in free plants. The 2014 Nature Hills Nursery Green America Awards honor nonprofit groups and community organizations that are "greening" their communities, parks, schools and public spaces by planting trees, shrubs and other plants.
Applications for the 2014 Nature Hills Nursery Green America Awards will be accepted online at www.naturehills.com/green_america_awards.aspx until April 17, 2014. The winners of the Green America Awards will be determined by votes on the Nature Hills Nursery Facebook page. The voting will proceed in a series of head-to-head contests between pairs of semi-finalists. The first prize winning garden will receive $1,500 in plants from Nature Hills Nursery. Second prize is $750 in plants and the Judges' Award winner receives $250 in plants.