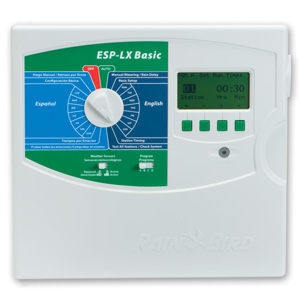 TUCSON, Ariz. While some commercial and industrial sites want irrigation controllers with all the bells and whistles, others need a simpler option with basic features. Rain Bird has answered that need by introducing the latest controller in its popular ESP-LX Series—the new ESP-LX Basic.
"Our market research found that many contractors and maintenance professionals were looking for an easier-to-use controller," said Sean Azad, product manager for Rain Bird's commercial division. "The ESP-LX Basic is ideal for those individuals. It's a simple, entry-level controller that provides only the water management features and modular options that commercial sites use most."
The ESP-LX Basic is also an excellent choice for contractors or maintenance crews with employees who speak English and Spanish. Patent-pending technology makes it possible to switch the controller's language from English to Spanish with the simple turn of a dial.  Rain Bird is the first manufacturer of electronic or irrigation equipment to integrate this type of innovative technology.
A spacious, locking plastic case and quick-connect terminals make the ESP-LX Basic fast and easy to install. The ESP-LX Basic's base model can control 12 stations and is expandable up to 48 stations by adding hot-swappable 4-, 8- and 12-station modules. An external alarm light and on-screen messaging alert users of conditions that could potentially disrupt controller operation. The controller integrates Rain Bird's proven "Extra Simple Programming" interface, an industry standard since the early 1990s. Its large LCD display features softkey text labels to indicate button functions.
While the ESP-LX Basic may be simple to operate, it still includes must-have features that help commercial sites efficiently manage irrigation and consume less water. Users can create four individual watering programs with eight available start times per program. A SimulStations™ option allows two stations to operate at the same time, helping reduce watering windows. The Cycle+Soak™ divides total irrigation time into shorter cycles, preventing run-off and allowing water to soak into plant and turf root zones. Seasonal Adjust from 0 to 300 percent makes it easy to quickly modify irrigation schedules when temperatures and precipitation amounts change throughout the year.  The ESP-LX Basic can also be outfitted with a weather sensor. After installation, weather sensors can be programmed by station to prevent or pause watering as needed in different areas of the landscape.
"We understand that one size doesn't necessarily fit all when it comes to commercial irrigation control," Azad said. "By adding the ESP-LX Basic to our ESP-LX Series of commercial controllers, we can now provide contractors and maintenance professionals with a wider range of choices to better match their unique needs."
For more information or to watch a brief video about the new ESP-LX Basic, visit www.rainbird.com/landscape/products/controllers/ESP-LXBasic.htm. To learn more about the many other irrigation products that Rain Bird manufactures for the residential, commercial, golf and agriculture markets, visit www.rainbird.com.