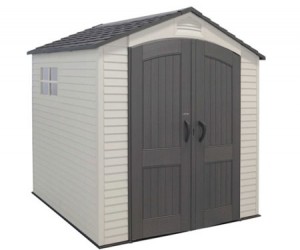 As winter turns into spring, most people start to think about making the most of their garden and gaining the benefit of the natural space attached to their house. The weather may not always live up to expectations but having a clear and spacious garden is the best way to ensure that if good weather does arrive, people are in the perfect position to benefit from it.
Recently with preparation for spring, which is just ahead, many homeowners look to do spring cleaning and prepare their home and garden for summer and the remainder of the year.
Shedsforlessdirect.com has made it a little easier for people looking to purchase storage sheds by offering discounts on many of their Lifetime sheds. One will also find that many of their sheds come with free accessory packs to make getting organized a little bit easier.
With the current economic climate being more of a factor than the weather climate for many people, it is easy to see why many people will decide against making any major moves in their garden. However, it doesn't take a lot of effort or money to make a big difference to how the garden looks and a storage shed can make a massive difference. Having a safe and secure place to store garden equipment, chairs, BBQ equipment or even just a lawnmower to ensure the garden remains in tip top condition can make all the difference. This is where a shed option starts to become the obvious solution to the biggest garden organization problems that people will face all year.
Anyone looking for long term value will be delighted to learn that there is a 10 Year Factory Warranty on all Lifetime sheds. Too many products these days are developed cheap for short term use and prove to be even more costly over time. Having to replace products every year can carry a large price over the years. Finding a reliable and effective long term solution is the best idea when deciding on a new shed.
Consumers looking for a bargain would be advised to consider the Lifetime shed but the benefits do not stop with the price. There is a free shipping offer available online at Sheds for Less Direct and there is no sales tax added to the price. When you consider that there is a tool corral included with the purchase of any 8, 10 or 15 foot Lifetime shed, there is a great deal of value when buying a Lifetime plastic storage buildings.
Even if cost is not the overriding factor in the decision making process, it can be difficult for some people to decide on what shed is right for them. Simplicity is always an important factor and with full instructions written with the novice in mind, sheds from ShedsForLessDirect.com can be properly installed in no time at all by anyone with no experience required. Lifetime sheds are easy to assemble and require little to no maintenance over the years. To keep them clean simply hose off with a garden hose! The Lifetime shed can hold up to the most extreme weather conditions and will not rot, stain or mildew. When it comes to the notion of do-it-yourself, there is no doubt that this style of shed is the choice for people of all ages and all experience levels.