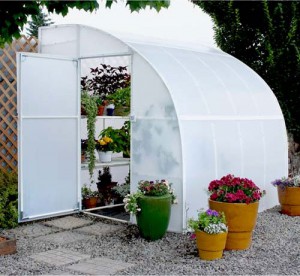 Have limited space for a greenhouse? Now you can grow your own organic food all year—affordably and in a small space. Measuring 8 feet wide and 8 feet long, the Solexx Harvester Greenhouse is designed to stand alone or hug the side of your house or fence. This greenhouse is completely enclosed for maximum strength, insulation, and solar heat collection for year-round use—whether you're starting your fall salad greens, growing tomatoes or protecting plants for the winter. The large (6 ½ feet tall by 36 inches wide) door provides easy access to the roomy growing area and can be installed on either end.
The Harvester Greenhouse provides the best of both worlds: a double-tiered bench frame maximizes your growing area on one side while a single bench frame on the other is ideal for taller plants and provides an easy-to-access workspace—over 60 square feet of total bench area. Two hanging rods run the full length of the greenhouse.
An essential feature of the greenhouse is the Solexx brand greenhouse covering. The twin-wall material diffuses light to create ideal inside growing conditions for healthier and more robust plants. The covering also provides the highest-rated insulation available in hobby greenhouses. The combination of the strong frame along with the Solexx corrugated plastic greenhouse covering makes the Harvester Greenhouse sturdy enough to withstand powerful winds—unlike many small greenhouses. The greenhouse is backed by a 10 year warranty.
The Solexx Harvester sells for $2,316 from The Greenhouse Catalog, http://www.greenhousecatalog.com/product/8-solexx-harvester-greenhouse/hobby-greenhouses . Delivery is free within the 48 contiguous states. For more information contact www.greenhousecatalog.com or (800) 825-1925.