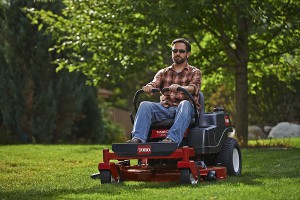 Toro continues to enhance its TimeCutter® line of zero-turn mowers with three new models for 2016. Developed in response to customer feedback, the expanded mower lineup offers more choices to fit a broader range of needs and budgets.
New to the line are two TimeCutter lever-steer models with commercial-grade fabricated decks featuring thick, 10-gauge steel construction. The new 42″ deck model is powered by a 452cc Toro® engine, and the 50″ deck model is powered by a 24.5 hp Toro V-Twin engine. Both models feature the award-winning Smart Speed® control system*, which offers three ground speed ranges (trim, tow and mow) for greater control and maneuverability when cutting grass and pulling attachments. The MRSP for the 42″ deck model is $2,999, and $3,399 for the 50″ deck model.
TimeCutter SW models blend the familiar ease of a steering wheel and speed control pedal with the maneuverability and time savings of a zero-turn mower. Toro is adding to the TimeCutter SW lineup a new steering wheel zero-turn lawn tractor model with a 54″ formed steel deck. It will feature an extra-tall contoured seat, large 20″ diameter rear tires, and an adjustable steering column for maximum operator comfort. Like Toro's other SW models, the new tractor features the award-winning Smart Park™ braking system** that automatically stops the mower deck and sets the parking brake when the operator needs to get off the mower — all while keeping the engine running.
These new models can be custom built using Toro's innovative Custom Z Builder. The Custom Z Builder allows customers to build their perfect mower in minutes by choosing their preferred steering, platform, deck, engine, and seating options, among others.
Also new for 2016, spreader and sprayer attachments designed for use with TimeCutters are available through Brinly-Hardy. The new attachments mount to the back of the TimeCutter mower frame, providing optimal functionality and maneuverability.
"Toro is always listening to feedback, and we're continually working on new enhancements to offer the products and features our customers desire," says Tanner Erickson, marketing manager at The Toro Company. "The latest additions to the TimeCutter family give customers more options to choose the model that works best for them."
For more information about the new TimeCutter zero-turn mowers and tractors, contact your local Toro retailer, call Toro at 1-888-384-9939, or visit www.toro.com/z.